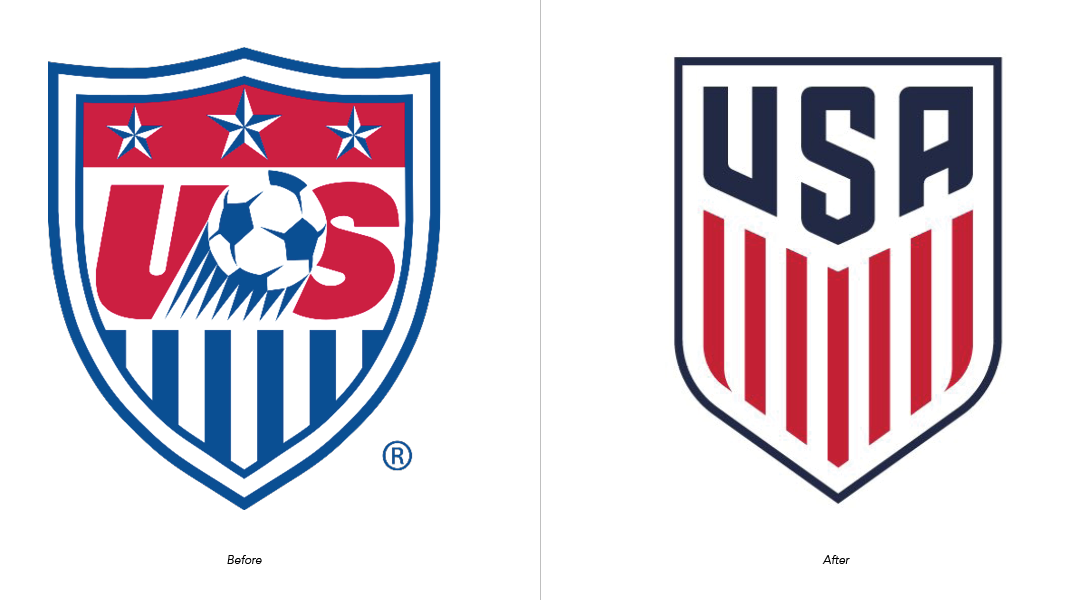 Our Production Director, Miguel, shares his feelings on the new USA National Soccer Team crest/logo redesign.
Objectively:
It is good to see a re-branding well done especially with the recent fiascos that we seemed to be surrounded with, such as the recent "The Met" re-brand or even more heartfelt one like the new Uber logo. 
The graphic direction here is very "American" and on trend. I guess it is somehow good to see that there is a direction that tries to go beyond the sport itself and meets the actual visual identity of the country; however, this means that there is something missing that connects the crest with the sport or with the country's team itself. In other words, if this was a patch on the arm of a soldier or if this was on a baseball jersey it would still be a great crest… not a football (editor's note; Miguel means "soccer" here. Being a Colombian, his idea of football will always be the one that's actually played with feet!) crest. 
The typography (90′) is very well done and the variety of weights and its readability makes it a great graphic asset. In addition, like in many other areas of design, flat design has taken over some of the most important re-brand projects in the past years. It is not only cleaner; but also, it is better for implementation on all the electronic devices and platforms that we now all use.
For example: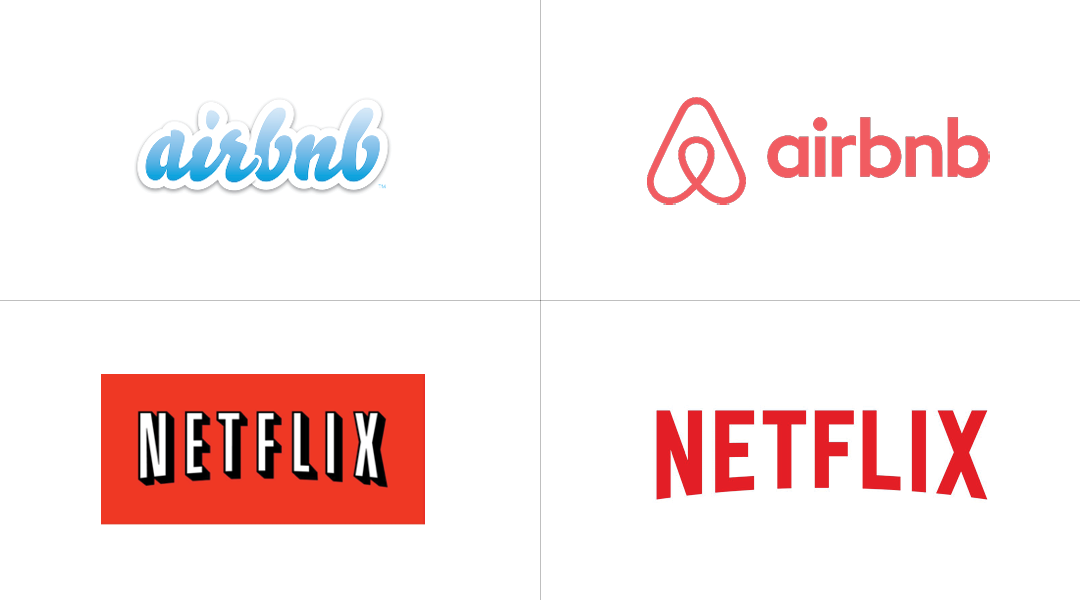 To clarify, I am not saying that, it is necessary to be as literal as the Long Island Rough Riders (below) but it is somehow necessary to have a hint of "patriotism" and a sense of owning the sport, itself … Especially for a country like USA that is so very patriotic and passionate about its teams.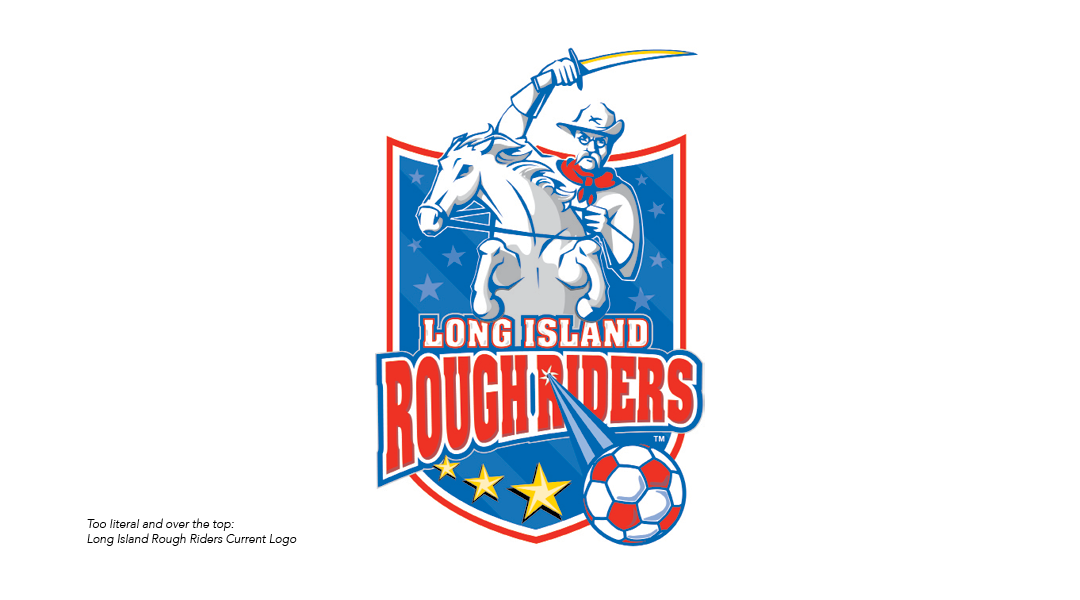 Subjectively:
Personally I never liked the previous U.S. Logo because it reminded me of the 1994 World Cup so… good f'ing riddance! Nevertheless and beyond my personal bad-football-memories I don't see football in this new USA logo, I see a sharp design, a nice brand identity and good looking merchandise (I would definitely consider getting the new scarf). 
Perhaps it is because I'm not used to teams changing their logos that I feel that lack of identity in the new USA logo. I personally don't like my team's logo (below) but i would never change it because it is part of my identity, it would be like if my country one day decided to change the colors of the flag.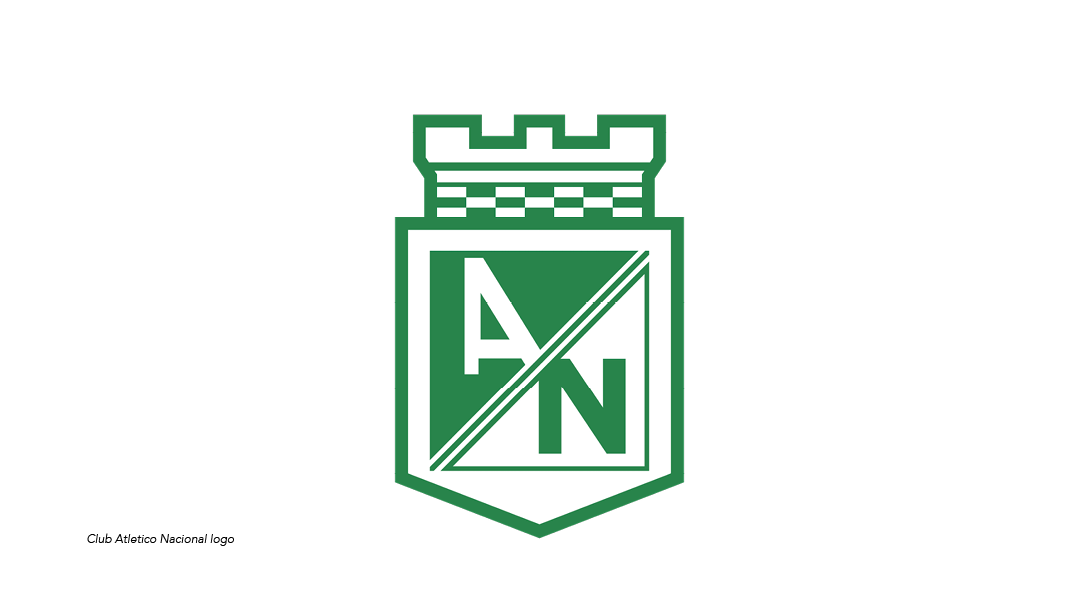 Not to go too far, here are some recognizable football logos that most likely won't change for a good while because they just became an emblem of the sport and the country or city they represent. Even if they are not the best design in the world… they are football.